Happy Wednesday everyone! I hope you're all having a great week so far! I've been doing a lot of experimenting in the kitchen and have some yummy recipes to share with you soon! As always, thanks to Jenn for hosting such an awesome party!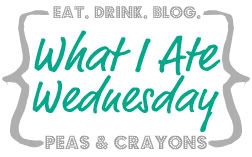 Since I have a Fall break from school right now, I get to sleep in and make myself a nice breakfast every morning. During the school week I don't have much time and usually have oatmeal for breakfast. So that's why I'm trying to enjoy every minute of my "special" breakfasts! :)
Breakfast this morning tasted great! I had a German breakfast roll topped with butter and homemade raspberry jam, 2 scrambled egg whites with turkey deli meat plus some walnuts on the side.
Quick Homemade Raspberry Jam: Put a few frozen raspberries into a microwaveable bowl, add a teaspoon of water and heat up in the microwave for 30 seconds. Take a fork and press down on the berries until they're all mushed up. Add a packet of Stevia and mix well.
My hunger was out of control! I was snacking on peanuts and cereal all day! :)
Lunch was something I haven't had in a while..pizza! I made my own homemade pizza crust (with only 2 ingredients and 100-150 calories depending on how big you want your pizza.)
What are your favorite pizza toppings? What's your go-to breakfast when you don't have much time in the morning? Would you be interested in a Q&A post?