Hi everyone! Thanks to everyone that has entered my Bendiful giveaway! If you haven't entered yet, you have until this Thursday to enter and win a pretty awesome watch! :)
I have a busy week filled with homework and exams ahead of me. Not really looking forward to that.. I am looking forward to seeing all the WIAW posts though! Today, I'm going to share my Tuesday eats with you. Per usual, thank you Jenn for hosting this! :)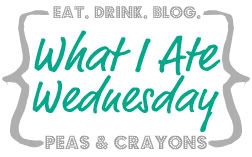 For breakfast yesterday all I wanted was carbs! I had 3 pieces of crisp bread topped with butter and honey, 2 pieces of toasted rye bread topped with butter and half a banana on the side. I wanted to top my banana slices with cinnamon, but then I realized that I'm all out..bummer! It was still a tasty breakfast though!
Lunch today was a big serving of sweet corn and a tortilla wrap filled with turkey breast deli meat, one egg white and hot sauce.
After finishing some homework, I had a yogurt mess. I mixed some puffed Kamut, an Activia yogurt, stevia and raw oats together and enjoyed while procrastinating reading blogs.
Once dinner time rolled around, I had no idea what I wanted. I started looking through our pantry and found some tomato soup that was calling my name! So I fixed myself a bowl of creamy (store bought) tomato soup and had a English muffin topped with butter on the side. Perfect meal for a cold evening!
Also, I was tagged with the "Liebster Blog" award by Nada! (Thank you!)
'Liebster' is German for 'dearest' or 'beloved' but it can also mean 'favorite.' The idea behind this award is to bring attention to blogs with fewer than 200 followers and show some support.
The rules of winning this award are as follows:1. Show your thanks to the blogger who gave you the award by linking back to them.2. Reveal 5 of your top picks and let them know by leaving a comment on their blog.3. Post the award on your blog.4. Enjoy the love and support of some wonderful people on the www!
I'm passing this award onto..
Pureglow16 ♥ LivingLearningEating ♥ GoTheXTraMile ♥ LactoseFreeLizzie ♥ NutritionInAPeanutShell
Do you ever procrastinate? What's your favorite kind of soup? What was the best thing you ate today?