Happy Wednesday everyone!
Is it just me or did the holiday season just fly by? I've come down with a case of the post Christmas blues. On the other hand, I'm glad to get back on track and start eating healthier again and get back to my workout routine.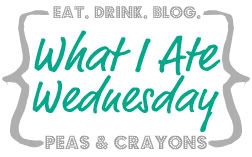 Thanks to Jenn for hosting WIAW. As usual, I'll be sharing my eats from Tuesday.
I started off my day with a nice big bowl of cinnamon banana oats.
My breakfast kept me full until it was lunch time. This rarely happens but I guess it was because I had a pretty late breakfast. Since I didn't have a mid morning snack, I made a big smoothie. I also had an unpictured piece of toast with butter and jam.
In the smoothie: 1 scoop of vanilla All Natural Designer Why protein powder, a little bit of full fat milk, 1 cup raspberries, 1/2 a cup of full fat yogurt, ice cubes, NuNaturals stevia and half a frozen banana.
Afternoon snack was two big apples chopped up and topped with cinnamon. Like my Shamu bowl?
Dinner was two potatoes with an ocean of peas as my side. While eating the potatoes, I kept topping them with butter and salt..yum!
Late night snack was some snicker doodle Snackimals and some milk chocolate. I love "little kid" snacks. :)
Dark chocolate, granola and almonds were also eaten throughout the day. I'm such a snacker!
Anyone else have the post Christmas blues? Are you happy to get back on track and back into your "normal" routine? Favorite "little kid" snack?